BioReme ECO POND- Bio Culture for lake and Nallah Bioremediation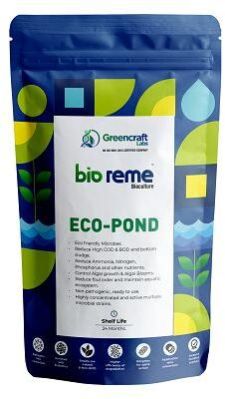 Business Type
Manufacturer, Exporter, Supplier
Brand
Greencraft Labs
Usage
Eco Pond
Packing
PP Packets
Click to view more
Bio Reme Eco Pond Bioculture blend of highly active naturally occurring ecofriendly good bacteria which are absolutely essential for the survival of aquatic ecosystems as well as the creature both flora and fauna. They aid in decomposition of organic materials breakdown of waste substances and the cycling of nutrients in aquatic ecosystems, prevent buildup and stagnation in the water and also aid in oxidizing ammonia, nitrites and sulphides and sulphates improving quality of water.
Benefits
Degrade Ammonia nitrogen, phosphorus and other nutrients from pond/lake/drains.
Degrade high COD & BOD.
Nitrating removing efficiency of system increase.
Stabilizes oxygen level and helps to maintain Dissolve oxygen level.
Eco friendly bacteria nonpathogenic for human, animals and aquatic ecosystems.
Breakdown organic matters and reduce bottom sludge accumulation.
Eliminate Bad odour and improve water clarity.
Helps to maintain internal eco system of water body.
Reduce bad effect of algaecides and herbicides.
Looking for "
Bioreme Eco Pond- Bio Culture for Lake and Nallah Bioremediation

" ?
Kilogram